Project Information and Impact Reporting System (PIIRS) Summer Student Experience
By: Abena Twumasi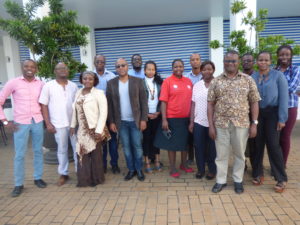 I arrived in Mozambique on Saturday, June 3, 2017, after spending a week in Tanzania at a PIIRS workshop. It was a great way to kick-start my practicum: getting to meet with colleagues from other country offices in the Southern Africa region, dinner on the gorgeous Masaki peninsula, watching the moon gleam over the water and then disappear over the horizon.
I received a hearty welcome from staff members at the CARE office in Maputo and finally got to practice the 4 words I had learned in Portuguese, "Prazer em conhecer você (pleased to meet you)." I settled into the Learning Laboratory-complete with pristine white slabs, a huge wooden bookcase teaming with archives (step aside Merlin) and 3 wonderful colleagues. This was my office for the next 8 weeks! I had been in contact with one staff member, Octavio De Sousa, MEAL and CRA Learning Hub Coordinator, during the past 2 months, and he remains a key collaborator during my stay. In addition, I frequently worked with M&E Officers in Inhambane Province- Gervásio Nazaré, Hemilton Novela, Allend Mamudo and Dercio Fernando, albeit remotely.
My goals:
Bringing CO teams involved with program proposal development, implementation and monitoring to a place where they had a good grasp of CARE's global indicators (the big picture: why and how they should be reported in PIIRS).
Helping people to understand the PIIRS forms and the role they play in telling our story as an organization.
My role this summer in CARE Mozambique has been to help make sense of their projects in the light of PIIRS-how their current indicators map onto the global indicators and the main outcome areas and just facilitating that on-going conversation and feedback loop with the CI MEL team to address any concerns that came up among the CO teams.
First things first
The first thing my CO wanted me to do was to help tackle the issue of double counting between projects. To do this I mapped out the different projects and their implementation sites; after which I had a conversation with the MEL team to start thinking about which projects we would cluster and report as a single PIIRS form for that fiscal year.
I structured my time in-country such that each week would be devoted to working on a cluster of projects. My day-to-day at the office typically includes perusing evaluations and reports from those projects and documenting guidance that will be helpful to report that specific project in PIIRS. In addition, I often exchange emails with the M&E Officers working on the different projects to share guidance notes, receive information from them, ask for their feedback, or just to track evaluations. I had hoped to be able to have more face-to-face interaction with them-but they all happened to be based in different provinces and so I've had to do a lot of things I initially planned to do in person, virtually. On the bright side, I have been able to help make it a little easier for the MEL team to share information by setting up a team Dropbox.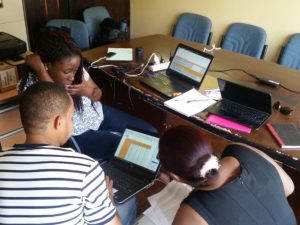 What did I notice about how data is being collected and used in Mozambique? First, there was a lot of data available, both in their raw format, and also in reports and evaluations. Secondly, having the data has created the opportunity for project teams to learn from program activities that did or did not go well, especially in the area of emergency response, and use that information to guide current projects.
Concerning the general level of understanding when it comes to the global indicators-the MEL team seemed to have a good grasp of the indicators that pertain to food and nutrition security and climate change resilience including indicators that could be used as proxy indicators from their own projects. They were specifically interested in learning the 'criteria' for-and how to cluster multiple projects on a single PIIRS form. Some of the questions that came up around PIIRS (with other staff members other than the MEL team) had to do with why it was important in the first place. It did not seem to me that PIIRS data was used very much other than the fact that it was reported.
My biggest "A-ha" was when I learned that there were no set frameworks for collecting PIIRS-compatible data especially for projects that are implemented, for the most part, through partners (which is often the case). In such scenarios the M&E framework for the project is often not set up in such a way as to collect PIIRS-compatible data, making it difficult for the program manager (or whoever is in charge from CARE) to obtain the information they need when it's time to fill the PIIRS form.
I will miss this place
It's been a pleasure getting to live and work in such a beautiful country with its endless coastline, miles and miles of 'whitish' sand and beaches at every turn. I'm almost positive my favorite thing about living here is getting to eat all the different varieties of fish and seafood. I try to have a different kind at every meal and so far, I haven't been disappointed! (…well maybe once.)